MyLab™X9
1401-04-01
MyLab™X8 Platform
1401-04-11
MyLab™9 Platform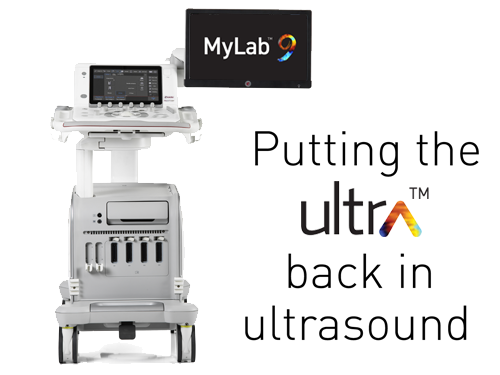 MyLab™9 Platform: Beyond Performance and Value
Esaote's new ultra-performance MyLab™9 Platform ultrasound system is designed to support a full range of shared service diagnostic imaging environments. Take ultra-control of your images with unique visualization tools, and view results with clarity and sensitivity to help make more informed clinical decisions. Experience the ultra-comfort of Italian-designed ergonomics and an ultra-easy user interface that increases productivity.
The MyLab™9 eXP and MyLab™9 ultrasound systems provide unprecedented power to drive more confident, better informed healthcare decisions without compromise, at an ultra-value.
Clarity, Colour, Contrast
We understand image quality is ultra-important to you. Our non-composite single crystal probe technology provides excellent image quality you can count on.
Driven by the new ultra-engine platform and with an extraordinary 24" full HD medical-grade LCD monitor by BARCO™ (optional), it delivers greater image clarity, color, and contrast to support your diagnostic imaging challenges.
The MyLab™9 Platform delivers stunning display quality for a superior, application-rich ultrasound experience empowering you to guide more informed healthcare decisions.
iQProbes Technology
Transducer design, quality of materials and manufacturing technology drive image quality. At Esaote's Transducer Center of Excellence in Florence, Italy, the team has optimized our scan converters, post processing algorithms and incorporated technologies to create an ultra-quality ultrasound transducer – iQProbe.
Workflow, Uncompromised Ease-of-Use
asyMode*: unique touch-tool for image optimization through intelligent real-time algorithms
>> DOWNLOAD PDF LEAFLET [648 KB]
Opti-light**: integrated into the monitor to illuminate the room ensuring the best environment for optimal scanning
appleprobe: innovative design which reduces muscolo-skeletal strain up to 70% for better user experience and comfort in clinical practice
* Patent pending
** Opti-light available with Monitor 21'' only
Performance without Compromise
Boot-up: the quick boot-up and efficient stand-by mode make the MyLab™9 Platform easy to unplug, and move from room-to-room without missing a beat.
i-motion: technology aimed to ensure the best image quality and the highest frame rate, even in the most challenging imaging modes.
Extended Connectivity:
Multi-modality archive
DICOM connectivity (including Q/R)
IHE compliance
Wireless connectivity
MyLab™Desk evo software for external workstation
MyLab™Tablet
Streaming
Uncompromised Value
Developed to provide ultra-quality ultrasound technology to clinics, hospitals, and private practices, the MyLab™9 Platform offers smart upgradability, long-term maintenance options and transducer compatibility.
The MyLab™9 Platform delivers unprecedented precision, power and capabilities to drive more confident healthcare decisions at an excellent value-performance in a globally connected environment.
MyLab™9 Platform: Putting the ultra Back in Ultrasound
The MyLab™9 Platform is a state-of-the-art platform with a solid-state hard disk (SSD), last generation CPU/GPU unit, and Windows® 10 supporting the latest data security and processing power requirements. The quick boot-up and efficient stand-by mode make the MyLab™9 Platform easy to unplug, and move from room-to-room without missing a beat.
Esaote's Advanced Technologies
---
PX 1-5
C 1-8

IH 6-18

SB2C41

SB3123

P 2-9
TLC 3-13

L 8-24 appleprobe
P 1-5 appleprobe

mC 3-11 appleprobe
L 3-11 appleprobe
EC123

S2MCW